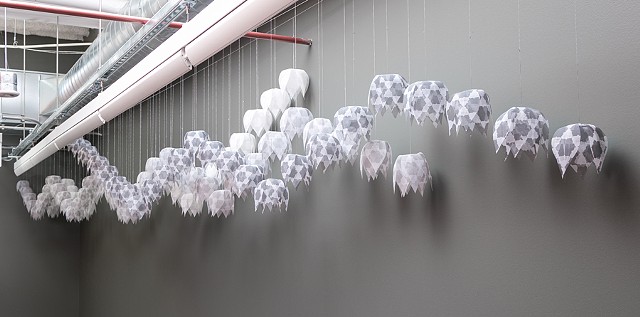 Cascade
site-specific installation
commission for Facebook Artist in Residence program
Woodblock print on sheer voile fabric
10' x 24'
2018
Site-specific installation for Facebook Artist-In-Residence
Permanently hanging in corporate sales offices, downtown Denver, CO
Approx 90 pieces total.
My vision for this installation was to create a sense of calm and relaxation. Our lives are so busy and rushed, and we are consumed with over-stimulation. The subtle color palette is designed to renew a sense of peace and tranquility, grounding the viewer's energy. As one enters the space, air currents cause the pieces to gently move and sway in response. This engages and connects the viewer, causing them to slow down and pause for just a moment.
The pattern serves as a reflection of our daily routines - complicated, layered and rhythmic. It was carved onto a woodblock via an Epilog laser machine.
The woodblock was then inked by hand in ranges of white to gray, and printed through an Intaglio press onto sheer fabric.
Next each print was shaped by hand, assembled, and sewn together on a machine.
The shape I chose to create is reminiscent of things found in nature - flowers, clouds, or snow mounds that cover an object, resulting in a soft and gentle shape.
As each row of the installation rises and falls, it flows in contrast to the next row, meeting only for a brief pause. This is a reflection of our individual lives, as they eb and flow, together and apart.
photo by WM Artist Services